Jazyk aktivity: Anglický
(ďalší popis v anglickom jazyku)
Do you want to develop your creativity and innovative spirit, but you don't know how?
Do you think you have a good business idea, but you don't know how to try it?
Do you want to become an entrepreneur, but you don't know where to start?
Attend a Design Thinking workshop, and learn about the tools and methods used by Google to develop innovative products and ideas.
In this free online workshop, you will meet new people with different experiences and interests. You will go through all the steps of the design thinking process with a small theoretical basis and a number of practical activities.
What will you learn?
How to empathize with the user / Empathetic conversations
How to be creative / Brainstorming and 10x more ideas
How to create a prototype / Testing, feedback and a final product
Upon completion, you will receive a valuable certificate from the organizer Grow with Google.
We are looking forward to you!
Lecturer: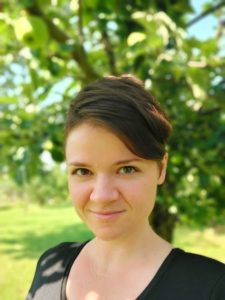 Šárka Patkošová is a Certified lecturer and a soft-skills trainer with more than 10 years of experience in the field of education and development of people. She currently works as an AT&T Project Implementation Manager/Development and Training SME, as well as Lean In Slovakia Learning & Development Manager.
She also cooperates with Google as a certified #Iam Remarkable workshop facilitator and a Design Thinking Trainer under the Grow with Google initiative.  Her passion is to develop and support people, so they could achieve their goals, and lead a happy, fulfilling life.